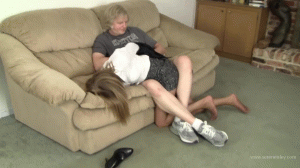 29 photos; 26:00 video
A Star double feature is this Bound Beauties update with Star starring first as a lawyer whos ambushed by someone who doesnt want her to get to court. This is facilitated by wrestling her into bondage and gagging her with mouth packing and microfoam tape. Shes left disheveled and hogtied on the floor and most assuredly too tied up to make her court date.
In the second clip Star has called David into her office to let her know that they wont be needing his services anymore. Unfortunately for her he doesnt take this well and she soon finds herself wrestled into a hogtie on the counter top gagged with tight clear tape over white mouth packing. Shes taunted a fondled before being left to sort out her own situation while struggling and gag talking furiously.