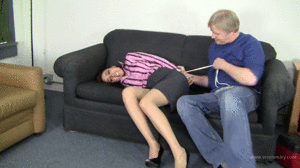 17 photos; 12:12 video
02.21.2019
Rachel was having a problem with one of her outlets. Every time she turned on her lamp it would trip the breaker and it was making her crazy. She called an electrician to come and take a look at it and was thankful when he finally arrived. He set his tool box down and she turned to point out which outlet she was the problem.

While her back was turned, Mr. Andrews, who was sadly for Rachel, was not there to fix the outlet, pulled some rope out and pounced her from behind. She was taken aback and squealed feeling his hands grip her tightly. He had seen Rachel around town and had spent many nights fantasizing about this very encounter, and how here she was, right in his hands. It was almost too easy he though as he knotted the rope binding her wrists. The next rope went around her upper arms and just under and over her breasts, framing them nicely between the two white ropes. A few more ropes and he'll be ready to load her in the van.

Rachel tries to convince the man that someone will come looking for her, that he won't get away with this, but he has his mind made up. He crosses her ankles and ties them together, running the rope under her heels. He goes to find something to gag her with, and returns with some white cloth and silver tape from his van. He unbuttons her blouse and pulls it open leaving her looking disheveled on the couch. She pulls against the ropes, whimpering and moaning. He goes to make a mess in her house to make it look like a robbery and returns with more rope in hand.

Rachel can't believe this is happening to her. It becomes all too real when he pulls her bra down and squeezes her bare breasts in his hands. He adds another rope over her upper arms to make sure she stays secure in the van while they head to her new home. He loads the tool box in the van and she wiggles and squirms desperate to get free before he returns. When he returns, she cries out loudly in the gag, and even louder when he hoists her over his shoulder and carries her out.