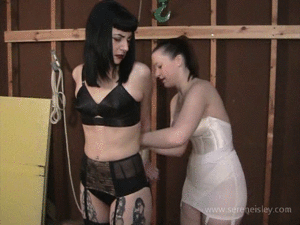 10 photos; 13:18 video
02-01-2019
We've hired Nyxon for a pin-up style shoot with a little bit of a light bondage swing…or at least that's what she thinks. She's dressed in a black cone cup bra, garter belt, black stockings, and some sexy black high heeled sandals. Overall she's an image to behold; her stark black hair and clothing contrasting greatly with her pale smooth skin. The clip opens with David taking some photos of Nyxon as she poses for the camera. After a few more clicks of the camera, David asks her if she's ready to try the light bondage photos he mentioned. She doesn't look like she really wants to do it but tells him that they can try it.

I come on set wearing a white bustier and girdle with nude stockings and 6" black high heel pumps. I gently grab Nyxon's hands and start tying them behind her back as she tries to watch. She asks if that's all I'll be tying and I assure her that we won't be doing much more than that. Once her hands are tied, David comes in behind her and lowers down a pulley she's been standing below and attaches her wrists to the pulley. Nyxon protests that she didn't agree to this and she wants to leave. I tell her that we'll make her a deal, that if she can get out then she can leave. While David is busy with her wrists and the hook, I grab another piece of rope and tie her ankles together tightly to make sure our little "model" stays put.

David pulls the hook up lifting her arms putting her in a beautiful strappado and then ties off the rope and walks away to grab something. Nyxon decides that it's past time of being polite and starts to freak out a bit wondering what the hell we are doing, etc. David comes back with a 2" black ball gag and taunts Nyxon a bit asking her where she thinks it goes before shoving the mouth filling gag between her lips causing some very cute pouting from our captive. He tightens the gag and I enjoy running my hands over the sexy girl now at our disposal. David grabs another piece of rope and forces her elbows together and ties them off. I make sure to grab a few snap shots before returning to play with her some more. I love hearing her scream behind the gag as my hands run over her body.

I get rewarded for my good service and get the chance to be bound as well, though mine in consensual. David brings me a chair to sit on and we jokingly talk about her and her new situation as he ties my wrists together behind me. I run the toe of my shoe up and down her legs causing her to do an adorable little hop as she tries to get away from me. David ties my elbows tight allowing me to fall into a cheerful relaxed state. He continues my bondage by tying my ankles together and tying them off to the leg of the chair. Next, to my delight, comes a huge 2 ¼" red ball gag pushed in my mouth.

David picks up the camera again and takes some more photos of our little scenario. Nyxon continues to whine and whimper behind the gag and I can't help but giggle behind mine while I watch her suffer. David comes in and rotates her ninety degrees to get a profile shot of her position and takes a few more shots of Nyxon looking rather distressed and defeated.