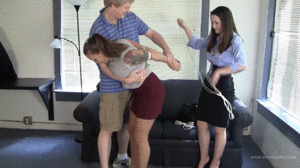 23 photos; 15:32 video
01-30-2019
Brenda invites me over to her place after we stay up way too late and end up seeing the sun come up. I try to make idle chit chat to distract her, waiting on my partner to arrive to get this show on the road Finally, he rushes in, grabbing her from the couch and pulling her arms behind her back. I secure her elbows and wrists together behind her back. David rubs his hands over her legs and breasts as she curses at him, jerking her arms, trying to get away.

As soon as I'm done tying the knot on her wrist, I grab a big green foam ball and shove it in her mouth, stuffing it completely in and then wrap white microfoam tape tightly around her head to stifle any cries for help she might have gotten out. I move on to her legs and David holds them together to keep her from kicking me while I tie her knees together.

David goes to get the van ready while I finish wrapping up our little package, tying her knees together and then tying them off to her wrists. I wouldn't want her trying to roll off the couch or anything. I take this opportunity to "inspect" the goods and lift her shirt, pulling her breasts out of her pretty purple bra. She whimpers into the gag.

When David returns, he says that I've done a good job and now it's my turn. I stand up placing my wrists behind my back for him to tie me up, he difference being that my tie is just for fun. He locks my elbows and wrists behind my back, and ties my ankles as well. He tells me to open wide and stuff a purple ball in my mouth and wraps microfoam around my head, securing it in place. He unbuttons my blouse to put me on display, removing my breasts from my bra.

I'm left alone with her and I reach over with my bound hands, pinching Brenda's thighs and nipples, tickling her side, anything to get her to squeal into the gag. I just love those little noises. Finally, David returns and lifts Brenda over his shoulder to carry her out. I follow them, hopping, still tightly bound and gagged.